Jimmy van der Hoeven wint weer NRHA Derby
23 juni 2019
Het is Jimmy van der Hoeven weer gelukt om de NRHA Derby in USA te winnen. Net als vorig jaar reed hij de winnende proef met Guaranteed A Magnum en deze keer zelfs met de score 231,5! Een ongelooflijke prestatie! De Non Pro Derby (level 1 t/m 4 en de Youth Derby) is gewonnen door de 16-jarige Jennifer Neudorf met Shining In Town. Ze reed de score 227,5.
Als 29ste start kwam Jimmy van der Hoeven aan start met Guaranteed A Magnum. Deze combinatie won al $200.000 prijzengeld waaronder de NRHA Derby 2018. Daar is gisteravond nog eens $57.000 bij gekomen.
"Casey (Hinton) and I talked it over before we walked in. It goes through your mind that you need to stay calm. Casey told me to 'Ride what your horse can do. That's what they do, and don't try to do more than that,'" Van der Hoeven shared. "Those were the words I heard when I walked in, but it's hard when people are screaming and you know what the horses before you did. Staying calm in that is not easy."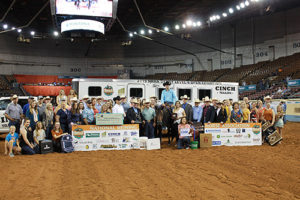 Afgelopen jaar werd de combinatie derde in de NRBC Level 4. "He's really special. What he has done in the past year is pretty special. He keeps getting better, too. This is the highest he's ever marked, and it's the highest I've ever marked," Van der Hoeven shared. "I know when I go in there he's not going to let me down. I never have to worry about him."
Jimmy werkt voor Casey & Kathy Hinton in Texas. "I thank the whole team. Casey and Kathy are real special to me. Casey is a great coach and trainer. I also thank all the people who work at home, and my brother Roy van der Hoeven," zegt Jimmy. 
Craig Schmersal werd Reserve Champion met No Smoking Required met de score 231.